Each of these hotels embraces the rich cultural heritage of Windhoek while providing a comfortable and memorable stay.
Hilton Windhoek
Location: Corner of Reverend Michael Scott Street and Sam Nujoma Drive, Windhoek, Namibia.
Price Range: Starting from approximately $140 per night.
Booking Platform: Book directly through the Hilton Windhoek website or popular travel booking platforms like Booking.com or Expedia.
The Hilton Windhoek stands as a beacon of luxury and sophistication in the heart of the city. The hotel effortlessly blends modern elegance with a touch of African influence in its decor and ambiance. Guests can enjoy spacious and well-appointed rooms, exceptional dining experiences, and access to the rooftop pool with panoramic views of Windhoek. Located near major attractions and the city's bustling markets, the Hilton offers a convenient and opulent base for exploring the capital.
Avani Windhoek Hotel & Casino
Location: 129 Independence Avenue, Windhoek, Namibia.
Price Range: Starting from approximately $110 per night.
Booking Platform: Reserve your stay through the Avani Windhoek Hotel & Casino website or renowned platforms like Hotels.com or Agoda.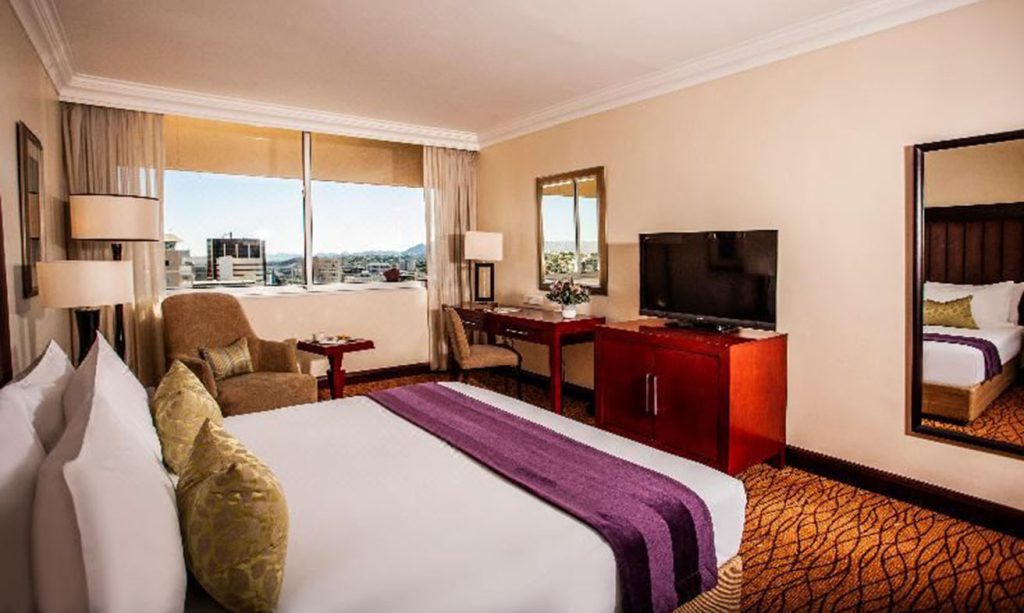 The Avani Windhoek Hotel & Casino boasts a prime location on the vibrant Independence Avenue, offering a perfect blend of urban convenience and African hospitality. The hotel's contemporary design features touches of local art, creating a unique and welcoming ambiance. Guests can unwind at the rooftop pool, indulge in delicious cuisine at the hotel's restaurants, and try their luck at the on-site casino. With its stylish rooms and proximity to cultural landmarks, the Avani promises an unforgettable stay.
Roof of Africa Hotel
Location: 172 Independence Avenue, Windhoek, Namibia.
Price Range: Starting from approximately $80 per night.
Booking Platform: Make your reservation through the Roof of Africa Hotel's website or trusted platforms such as TripAdvisor or Priceline.
The Roof of Africa Hotel exudes a warm and inviting atmosphere, reflecting the essence of Namibian culture and heritage. Nestled along the vibrant Independence Avenue, this charming boutique hotel offers comfortable rooms, each uniquely adorned with African-inspired decor. Guests can savor traditional Namibian dishes at the hotel's restaurant and soak in the breathtaking views of Windhoek from the rooftop terrace. With its affordable rates and proximity to key attractions, the Roof of Africa Hotel is a delightful choice for travelers seeking an authentic experience.
Hotel Thule
Location: Corner of Mühlenweg & Gorges Street, Klein Windhoek, Windhoek, Namibia.
Price Range: Starting from approximately $150 per night.
Booking Platform: Secure your stay via the Hotel Thule website or trusted platforms like Orbitz or Travelocity.
Perched atop a hill in the upscale neighborhood of Klein Windhoek, Hotel Thule offers a luxurious retreat with sweeping views of the city below. The hotel's African-inspired decor and warm hospitality create a tranquil haven for guests. The spacious rooms, elegantly designed with African touches, provide the perfect sanctuary after a day of exploration. The on-site restaurant, renowned for its delectable cuisine, offers an unforgettable dining experience. For those seeking an escape to serenity and splendor, Hotel Thule is the ideal choice.
Safari Court Hotel
Location: Corner of Auas and Aviation Streets, Windhoek, Namibia.
Price Range: Starting from approximately $90 per night.
Booking Platform: Book your stay via the Safari Court Hotel website or established platforms like Hotwire or Travelzoo.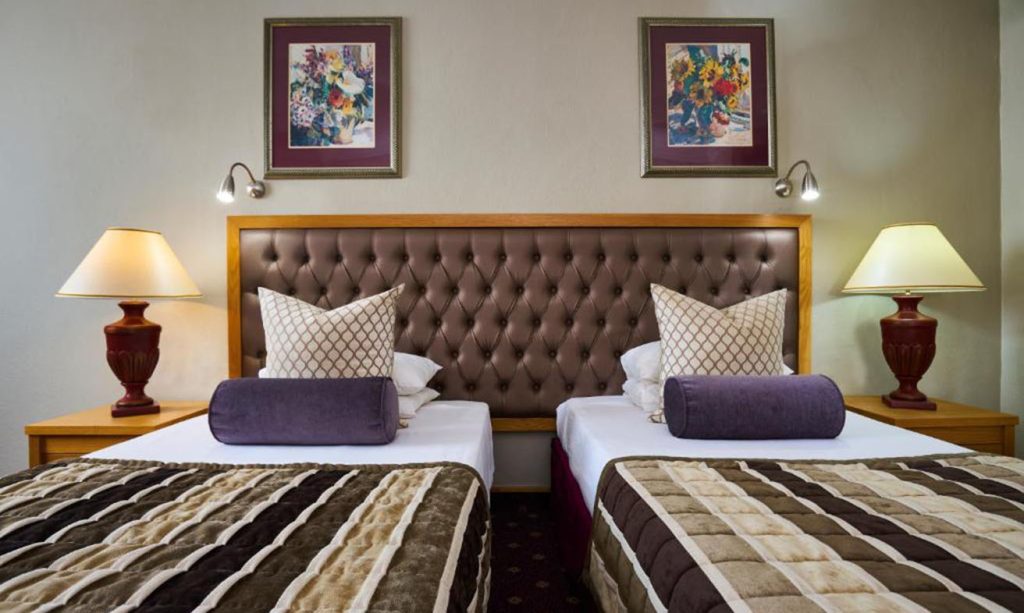 The Safari Court Hotel presents an oasis of comfort and relaxation within the bustling cityscape. With its distinctive African-inspired architecture and lush green surroundings, the hotel offers an authentic African experience. The comfortable rooms, adorned with tribal motifs, provide a welcoming retreat. Guests can enjoy the hotel's facilities, including the swimming pool, spa, and fitness center. The Safari Court's location ensures easy access to the city's attractions and a tranquil haven to return to after a day of adventure.
Windhoek's accommodation options offer a diverse range of experiences that capture the essence of Africa's charm. From luxurious stays in world-class hotels to boutique havens that embrace local culture, each of these handpicked hotels promises an unforgettable and authentic experience. Whether you're drawn to the Hilton's opulence, the Avani's urban convenience, the Roof of Africa's cultural ambiance, Hotel Thule's scenic splendor, or Safari Court's tranquil retreat, these hotels are sure to enhance your journey through Windhoek, leaving you with cherished memories of this vibrant capital. To embark on your unforgettable African adventure, secure your stay at one of these remarkable hotels through their official websites or reputable travel booking platforms.